IPO News Desk
Price Cuts: Pricing Weakness Spreads Among November IPOs
Stitch Fix made its public market debut recently at $15 per share, $3 below the bottom of its published price range of $18 to $20 per share. The price cut was widely attributed to lower demand due to the relatively poor performance of high-profile technology IPOs like Blue Apron and Snap. However, a closer look at November's deals shows that pricing weakness spread beyond just high-tech deals.
By November's midpoint, six of the month's 19 completed offerings had priced below the minimum filing price range, with each of those six issuers representing a different industry. November's total is double the number of deals that priced below their stated range in each of September and October. Prior to November, May had seen the greatest IPO pricing instability with seven out of 21 new issues selling below the initial range.
Recent pricing difficulties are an exception in 2017, which so far has seen the lowest level of IPOs priced below the minimum filing price in a decade. Even with the recent increase, only 23% of deals completed between January 1st and November 15th had to sell below the intended range. That compares to 29.9% in 2016 and 33.5% in 2015. The closest any recent year has come to 2017's 23% is 2009 when 25% of offerings priced below the minimum filed range. In the last decade, 2012 saw the largest percentage with 39% of that year's 141 new issues priced below the minimum filing price.
The 2017 IPO company that slashed its offer price the most is YogaWorks. The company filed a price range of $12 to $14, but priced at $5.50 per share, a 57.7% drop from the midpoint of the initial range. Three other new issuers have priced 50% or more below the midpoint of the filing range. Immuron reduced its price by 52.4%, Calyxt by 51.5% and Elevate Credit by 50%.
The bulk of 2017's new issues (just over 60%) have priced within the filing range. The year is on pace to exceed both 2015 and 2016, which finished with 53.8% and 43.2%, respectively, of IPOs priced within the filling range. Through November 15th, 14.8% of 2017's IPOs have priced above the range, which is better than 2016's 12.8% but lags behind 2015's 20.5%.
Final IPO Pricing
v.
Initial Filing Range
2015 Through November 2017*



(* Data through November 15, 2017)
IPO Vital Signs Subscribers see,
#446. Final Pricing v. Initial Filing Price Range.
First Day Movement - In general, IPOs completed between January 1st and November 15th started off well, with 93 new issues gaining at least 1% in value on their first trading day. Seven of the year's IPO companies saw their shares remain flat on initial trading day, while the shares of 33 issuers lost value on the first day.
The top first-day gainer in 2017 is Newater Technology, whose shares jumped 78.6% on their first trading day. Rhythm Pharmaceuticals posted the second largest gain by climbing 76.5% from $17 to $30 on its initial trading day. At +72.4%, CarGurus enjoyed the third largest first-day gain of the year so far. In all, nine issuers saw their shares rise 50% or more on their first day.
Companies whose shares dropped in value on the initial trading day have not fared too badly, with only 12 falling 10% or more. The largest first-day loss was a 41.4% drop by Funko on November 1st. Allena Pharmaceuticals' shares dropped 28.7% on their initial trading day, while shares of Aileron Therapeutics fell 28%.
2017 Top Ten IPO First Day Pricing Gains
(IPOs First Trading from 1/1/17 to 11/20/17*)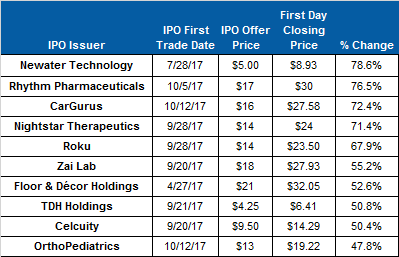 (* Data through November 20, 2017)
IPO Vital Signs Subscribers see,
#290. IPO First Day Pricing Statistics.
Post First-Day Performance - Since its impressive first-day gain, Newater Technology has continued to climb, posting a 98.2% gain through November 21st. The year's top performing IPO through that date is AnaptysBio, whose shares have risen 428.2%. Seven other companies' shares have more than doubled in value, led by SMART Global Holdings (+232.1%) and UroGen Pharma (+214.7%). Overall, 84 companies that have made their market debuts this year have increased at least 1% in value since they began trading.
Despite getting off to the second fastest start of the year, shares of Rhythm Pharmaceuticals have slid backwards in subsequent trading. After a 76.5% first-day gain, Rhythm's shares traded 64.1% above the IPO price as of November 21st. On the other side of the spectrum is G1 Therapeutics, whose shares finished their first day (May 17th) with no gain, but as of November 21st had risen 35% above their debut price.
Of the industries that have produced at least five IPO companies in 2017, pharmaceutical preparations (SIC 2834) has turned in the best aftermarket performance as a group. The sector is up 31.5% as a whole so far this year. Although some software companies have struggled, as a group prepackaged software (SIC 7372) shares are up 29.6% as of November 21st.


The IPO Line-Up
IPO Line-Up Rises One to 38 Eight-Week Active Registrants
April Registrant Vine Resources Rejoins IPO Line-Up with First Filing Since May 5th
No Initial Price Ranges Filed
First Time Since Mid-August That No Initial Price Ranges Have Been Filed In a Week
Nine Other Registrants File Amendments
Adial Pharmaceuticals Changes First Lead Manager from Aegis Capital to Joseph Gunnar In Latest Filing
Hong Kong-Based iClick Interactive Asia Group Replaces Lead Manager Credit Suisse with Network 1 Financial
Leisure Acquisition and Regalwood Global Energy Have Been Active In Consecutive Weeks
Four New Registrants Amend Their Filings for the First Time:
LexinFintech Holdings, Entera Bio, Senmiao Technology and Newmark Group
IPO Line-Up
(Ranked by Initial Filing Date)
The IPO Line-Up contains IPO Registrants that have had filing activity in the last 8 weeks and have not gone public or withdrawn from registration.
IPO Registrants that are red and bold indicate that a filing with the initial IPO price range has been filed with the SEC.
Industrial Logistics Properties Trust
S-11
UBS
11/21/17
--
--
--
--
--
--
--
--
S-11
Casa Systems, Inc.
S-1
Morgan Stanley
11/17/17
--
--
--
--
--
--
--
S-1
--
Advantage Insurance Inc.
S-1
Raymond James
11/16/17
--
--
--
--
--
--
--
S-1
--
GigCapital, Inc.
S-1
Cowen
11/15/17
11/15/17
--
--
--
--
--
--
S-1
--
Hudson Ltd.
F-1
Credit Suisse
11/14/17
--
--
--
--
--
--
--
F-1
--
FARMMI, Inc.
F-1
ViewTrade
11/14/17
--
--
--
--
--
--
--
F-1
--
Camposol Holding Plc
F-1
BofA Merrill Lynch
11/14/17
--
--
--
--
--
--
--
F-1
--
Americold Realty Trust
S-11
BofA Merrill Lynch
11/14/17
--
--
--
--
--
--
--
S-11
--
TFI TAB Gida Yatirimlari A.S.
F-1
Morgan Stanley
11/13/17
--
--
--
--
--
--
--
F-1
--
Odonate Therapeutics, LLC
S-1
Goldman Sachs
11/13/17
--
--
--
--
--
--
--
S-1
--
LexinFintech Holdings Ltd.
F-1
Goldman Sachs
11/13/17
--
--
--
--
--
--
--
F-1
11/20
Denali Therapeutics Inc.
S-1
Goldman Sachs
11/13/07
--
--
--
--
--
--
--
S-1
--
AXA Equitable Holdings, Inc.
S-1
Morgan Stanley
11/13/17
--
--
--
--
--
--
--
S-1
--
Quanterix Corporation
S-1
JPMorgan
11/9/17
--
--
--
--
--
--
S-1
--
--
Luther Burbank Corporation
S-1
Keefe Bruyette
11/9/17
--
--
--
--
--
--
S-1
--
--
Entera Bio Ltd.
F-1
Oppenheimer
11/9/17
--
--
--
--
--
--
F-1
--
11/20
Leisure Acquisition Corp.
S-1
Morgan Stanley
11/3/17
11/3/17
--
--
--
--
S-1
--
11/16
11/24
Senmiao Technology Limited
S-1
ViewTrade
10/30/17
--
--
--
--
--
S-1
--
--
11/22
Insurance Income Strategies Ltd.
S-1
Joseph Gunnar
10/24/17
--
--
--
--
S-1;10/27
--
--
--
--
Newmark Group, Inc.
S-1
Goldman Sachs
10/23/17
--
--
--
--
S-1
--
--
--
11/20
CURO Group Holdings Corp.
S-1
Credit Suisse
10/23/17
--
--
--
--
S-1
11/1
11/6
--
--
iClick Interactive Asia Group Limited
F-1
Network 1
10/20/17
--
--
--
F-1
--
--
--
--
11/22
WatchGuard, Inc.
S-1
Barclays
10/19/17
--
--
--
S-1
--
--
--
--
--
Workspace Property Trust
S-11
Goldman Sachs
10/13/17
10/31/17
--
S-11
10/19
10/27
10/31

;11/3

11/9
--
--
One Madison Corporation
S-1
Credit Suisse
10/13/17
10/13/17
--
S-1
--
--
--
--
--
--
Regalwood Global Energy Ltd.
S-1
Citigroup
10/2/17
10/2/17
S-1
--
--
--
11/3
--
11/16
11/24
Howard Midstream Partners, LP
S-1
Barclays
9/12/17
--
--
--
10/18
--
--
--
--
11/21
Molino Canuelas S.A.C.I.F.I.A.
F-1
JPMorgan
9/8/17
11/6/17
--
--
10/19
--
--
11/6
--
--
Hancock Jaffe Laboratories, Inc.
S-1
WallachBeth
9/7/17
11/6/17
--
--
--
--
--
11/6
--
--
Adial Pharmaceuticals, Inc.
S-1
Joseph Gunnar
9/6/17
9/6/17
--
--
--
10/25
--
--
--
11/22
ReTo Eco-Solutions, Inc.
F-1
ViewTrade
8/4/17
8/4/17
--
10/13
--
--
--
--
11/13
--
ProLung, Inc.
S-1
Maxim Group
8/4/17
10/17/17
--
--
10/17
--
--
--
--
--
LiveXLive Media, Inc.
S-1
BMO
5/11/17
10/6/17
10/6
--
10/16
--
--
--
--
--
Nine Energy Service, Inc.
S-1
JPMorgan
5/2/17
--
--
--
--
--
--
--
11/13
--
Vine Resources Inc.
S-1
Credit Suisse
4/10/17
--
--
--
--
--
--
--
--
11/21
Liberty Oilfield Services Inc.
S-1
Morgan Stanley
2/14/17
--
--
--
--
--
--
11/9
--
--
FTS International, Inc.
S-1
Credit Suisse
2/10/17
--
--
--
--
--
10/30
--
--
--
Albertsons Companies, Inc.
S-1
Goldman Sachs
7/8/15
--
--
--
--
--
--
11/8
--
--
IPO Line-Up includes all IPO registrants that have filed to go public in the U.S., have neither gone public nor formally withdrawn their offering by filing a Form RW with the SEC, and have had filing activity in the most recent eight week period. IPO Line-Up includes all SEC registered IPOs, including REITs and those non-U.S. IPO filers seeking to list in the U.S. markets, except for 1) closed-end funds; 2) best-efforts, self-underwritten, and direct offerings; and 3) small business IPOs with an offering amount of less than $5 million. IPO Line-Up: Recent SEC IPO Filing Activity is based on information provided from the IPO Vital Signs System located at https://www.ipovitalsigns.com/