The IPO Week
Six IPOs
Following Three New Offerings, Blank Checks Leads All Industries with 14 IPOs In 2017
Bison Capital Acquisition, Which Operates Out of Beijing, Raises $52.5 Million In Its Debut
Company Seeks an Asian or North American Target In Media/Entertainment, Consumer Services or Healthcare Industries
Hennessy Capital Acquisition Corp. III Is the First Wyoming-Headquartered Company to Go Public In the U.S. Since November 2009
Hennessy Is Looking to Acquire an Industrial Manufacturing Company with an Enterprise Value Over $1 Billion
Cowen's Sixth IPO as Lead Manager This Year Is $125 Million Deal for Constellation Alpha Capital
Constellation Alpha, Like Bison Capital, Is Incorporated In the British Virgin Islands
Altice USA's $1.9 Billion Offering Is Year's Second Largest IPO Behind Snap's $3.4 Billion Deal
SIC 4841 (Cable & Other Pay Television Svcs.) Has Produced Two New Issuers In 2017 After None In the Prior 15 Years
Safety, Income & Growth, New York-Based Purchaser and Owner of Ground Net Leases, Is Publicly Traded
Saftey's Deal Is One of Only Two SIC 6519 (Lessors of Real Property) IPOs In the Past Ten Years
Fifth REIT IPO of the Year Is Completed by New York-Based Granite Point Mortgage Trust
Company Spent Only a Month In Public Registration
Six Initial IPO Filings
Federal Street Acquisition, Which Was Founded by Executives of PE Firm Thomas H. Lee Partners, Registers $460 Million Offering
Blank Checks Company Will Focus Its Search for a Target In the Healthcare Industry
Federal Street's Sponsor Has Agreed to Purchase $13.75 Million of Warrants In a Concurrent Private Placement
Vencore Holding, Provider of Systems Engineering and Integration, Cybersecurity and Data Analytics Services, Registers
Company's Customers are Intelligence, Defense and Space Agencies Including NASA, the Department of Justice and the NSA
Vencore Will Continued to Be Controlled by PE Firm Veritas Capital Following the IPO
Citigroup, Lead Manager for Federal Street Acquisition, Also Will Lead Offering by New Registrant Calyxt
Minnesota-Based Company Provides Food Ingredients Developed Using Gene-Editing Technology
Calyxt Will Continue to be Owned by Cellectis Following the IPO
Kala Pharmaceuticals, Developer of Mucus Penetrating Particle-Based Therapies for Eye Diseases, Registers
Company Is Backed by Multiple Venture Capital Investors
14 Pharmaceutical Preparations Companies Have Publicly Registered and 11 Have Gone Public This Year
PetIQ, Which Will Undergo a Corporate Reorganization to Prepare for the IPO, Registers $85 Million Offering
Company Makes Prescription-Grade Medications, Other Health and Wellness Products for Dogs and Cats
Only SIC 5122 (Wholesale-Drugs, Proprietaries & Druggists' Sundries) IPO Executed In Past Ten Years Was In October 2014
Yoga Instruction Provider YogaWorks Registers Plans for $74.75 Million IPO
Company Is Controlled by PE Firm Great Hill Partners, Which Has Indicated an Interest In Purchasing IPO Shares
YogaWorks Has Recapitalized Preferred Shares and Notes, and Will Effect Stock Split Prior to the Offering

No IPO Withdrawals
No Forms RW Filed for Seventh Straight Week; Q2 Likely to be Slowest for Withdrawals In More Than a Decade
IPO Offerings
Form Type
1st Lead Manager
Listed
Initial Filing Date
Offer Date
Bison Capital Acquisition Corp.
424B4
EarlyBirdCapital, Inc.
5/31/17
6/19/17
Constellation Alpha Capital Corp.
424B4
Cowen and Company, LLC
5/18/17
6/19/17
Altice USA, Inc.
424B4
JPMorgan Securities LLC
4/11/17
6/21/17
Safety, Income and Growth, Inc.
424B1
BofA Merrill Lynch
4/10/17
6/21/17
Hennessy Capital Acquisition Corp. III
424B4
Credit Suisse Securities (USA) LLC
5/30/17
6/22/17
Granite Point Mortgage Trust Inc.
424
JPMorgan Securities LLC
5/24/17
6/23/17*
Initial IPO Filings
Form Type
1st Lead Manager
Listed
Initial Filing Date
Federal Street Acquisition Corp.
S-1
Citigroup Global Markets Inc.
6/20/17
Vencore Holding Corp.
S-1
Goldman Sachs & Co. LLC.
6/21/17
Calyxt, Inc.
S-1
Citigroup Global Markets Inc.
6/23/17
Kala Pharmaceuticals, Inc.
S-1
JPMorgan Securities LLC
6/23/17
PetIQ, Inc.
S-1
Jefferies LLC
6/23/17
YogaWorks, Inc.
S-1
Cowen and Company, LLC
6/23/17
IPO Withdrawal
Form Type
1st Lead Manager
Listed
Initial Filing Date
Withdrawal Date
No IPO Withdrawals
--
--
--
--
IPO News Desk
Willing to Wait: RWs Dwindle as Companies Try to Get IPO Timing Right
The IPO market enjoyed a productive second quarter in which 50 deals were completed (through June 20th) compared to 28 in the first quarter. Noteworthy among the second quarter IPO statistics is the low number of withdrawals. With only a week remaining in the quarter, only two Forms RW have been filed since the beginning of April. Barring a rush of withdrawals before the end of June, it will be the lowest quarterly total for RWs in the past ten years. The only other quarter with an RW count in the single digits during that time period was the first quarter of 2010 with 8.
As of June 20th, the market had gone seven consecutive weeks without the withdrawal of a preliminary registration. The drought suggests a slowdown in M&A activity, which is one reason companies pull out of planned IPOs. In addition, IPO hopeful companies seem willing to wait to get the timing of the offering right, rather than choosing to cut and run.
The reason most often cited for an IPO withdrawal is adverse market conditions. At the moment, the broader market is strong, giving companies in the IPO pipeline no reason to abandon their plans. Other factors are favorable as well. Deals are getting done relatively quickly this year with 46% of 2017's IPOs being completed within 30 days of initial public registration. In addition, 57% of new issues have priced within their initial price range. In the aftermarket, 41 of the year's 76 IPOs are currently trading above their offering price.
Since the start of 2017, there have been 20 withdrawals. At the current rate, this will be the slowest year for RWs in the past decade. Currently, 2013 claims the lowest total in the past decade with 46 withdrawals. Between 2008 and 2014, the average number of IPO withdrawals per year was 72. Last year there were 65 abandoned deals, and 60 in 2015. The 2008 through 2014 average was inflated by 2008, the year the global financial crisis took hold and112 companies withdrew IPO plans. It is the only time the RW count has topped 100 in the past 10 years.
Among the 20 companies that have withdrawn so far this year, half are non-U.S. companies. That includes the three most recent Form RW filings, and four of the last five. In 2016, only 23% (15 of 65) of the withdrawals were filed by non-U.S. companies. That is comparable to 2015 when 13 of the 60 (22%) abandoned deals were for companies headquartered outside the U.S. In 2011, 18 RWs were filed by non-U.S. companies, the highest annual total in recent years.
IPO Registrations Withdrawn
2008-2017*
(*Data through June 20, 2017)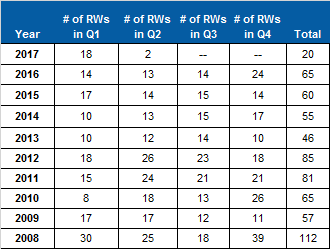 IPO Vital Signs Subscribers see,
#1002. IPO Withdrawals
Lead Managers - Of the 200 registrations withdrawn since January 1, 2014, Bank of America was lead manager on the largest number (45). The investment bank was listed as lead underwriter on 22.5% of proposed offerings that were pulled over the past four and a half years. Bank of America was the sixth busiest lead underwriter of completed IPOs in that same period with 117 new issues.
JPMorgan was the busiest lead manager of IPOs between January 1, 2014 and June 20, 2017 with 153 Pricings. It was lead underwriter on 44 withdrawn IPOs (22%) since the start of 2014, the second highest total behind Bank of America. The two investment banks have each tallied five RWs so far in 2017, tying it for first place this year. Five banks are tied for third this year with three withdrawals apiece.
Since January 1, 2014, Citigroup has worked on 34 withdrawn deals, the third most over the past several years, and three ahead of Goldman Sachs. Credit Suisse rounds out the top five with 30 withdrawals in the 2014 through June 2017 timeframe.
IPOs Withdrawn 2014 – 2017*
IPO Lead Managers
With at Least Ten RWs
(*Data through June 20, 2017)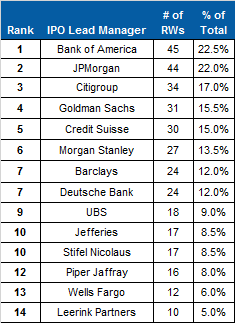 IPO Vital Signs Subscribers see,
#1055. IPO Withdrawals - IPO Lead Managers
The IPO Line-Up
IPO Line-Up Falls One to 41 Eight-Week Active Registrants
Seven Initial Price Ranges Filed
Federal Street Acquisition Sets Price Range In Its Initial Public Registration
Pharmaceutical Prep Companies Aileron Therapeutics, Dova Pharmaceuticals and Akcea Therapeutics Establish Price Ranges
Three Filers Amend Their Public Registrations for the First Time, Determine Price Ranges:
Byline Bancorp, Blue Apron Holdings and Esquire Financial Holdings
Eight Other Registrants File Amendments
Avenue Therapeutics Changes First Lead Manager from Raymond James to Oppenheimer
Four Springs Capital Trust and TPG Pace Holdings Amend Registrations Twice In Latest Week
Contura Energy and Gadsen Growth Properties Amend Registrations for the First Time
IPO Line-Up
(Ranked by Initial Filing Date)
The IPO Line-Up contains IPO Registrants that have had filing activity in the last 8 weeks and have not gone public or withdrawn from registration.
IPO Registrants that are red and bold indicate that a filing with the initial IPO price range has been filed with the SEC.
YogaWorks, Inc.
S-1
Cowen and Co.
6/23/17
--
--
--
--
--
--
--
--
S-1
PetIQ, Inc.
S-1
Jefferies
6/23/17
--
--
--
--
--
--
--
--
S-1
Kala Pharmaceuticals, Inc.
S-1
JPMorgan
6/23/17
--
--
--
--
--
--
--
--
S-1
Calyxt, Inc.
S-1
Citigroup
6/23/17
--
--
--
--
--
--
--
--
S-1
Vencore Holding Corp.
S-1
Goldman Sachs
6/21/17
--
--
--
--
--
--
--
--
S-1
Federal Street Acquisition Corp.
S-1
Citigroup
6/20/17
6/20/17
--
--
--
--
--
--
--
S-1
CompuLab Ltd.
F-1
Maxim Group
6/13/17
--
--
--
--
--
--
--
F-1
--
PQ Group Holdings Inc.
S-1
Morgan Stanley
6/9/17
--
--
--
--
--
--
S-1
--
--
TPG Pace Holdings Corp.
S-1
Deutsche Bank
6/7/17
6/7/17
--
--
--
--
--
S-1
--
6/19;6/20
Dova Pharmaceuticals, Inc.
S-1
JPMorgan
6/2/17
6/19/17
--
--
--
--
S-1
6/9
--
6/19
Aileron Therapeutics, Inc.
S-1
BofA Merrill Lynch
6/2/17
6/19/17
--
--
--
--
S-1
--
--
6/19
Tintri, Inc.
S-1
Morgan Stanley
6/1/17
6/16/17
--
--
--
--
S-1
6/6
6/16
--
Mersana Therapeutics, Inc.
S-1
JPMorgan
6/1/17
6/16/17
--
--
--
--
S-1
--
6/16
--
Blue Apron Holdings, Inc.
S-1
Goldman Sachs
6/1/17
6/19/17
--
--
--
--
S-1
--
--
6/19

;6/23

Esquire Financial Holdings, Inc.
S-1
Sandler O'Neill
5/31/17
6/19/17
--
--
--
--
S-1
--
--
6/19

;6/22

Byline Bancorp, Inc.
S-1
BofA Merrill Lynch
5/31/17
6/19/17
--
--
--
--
S-1
--
--
6/19
Four Springs Capital Trust
S-11
RBC Capital
5/24/17
6/13/17
--
--
--
S-11
--
6/7
6/13
6/19;6/20
Ranger Energy Services, Inc.
S-1
Credit Suisse
5/22/17
--
--
--
--
S-1
--
--
6/13
--
Oasis Midstream Partners LP
S-1
Morgan Stanley
5/12/17
--
--
S-1
5/17
--
5/30;6/2
--
--
--
Loton, Corp
S-1
BMO
5/11/17
--
--
S-1
--
--
--
--
6/14
--
US LBM Holdings, Inc.
S-1
Barclays
5/9/17
--
--
S-1
--
--
--
--
--
--
Contura Energy, Inc.
S-1
Citigroup
5/8/17
--
--
S-1
--
--
--
--
--
6/22
Venator Materials PLC
S-1
BofA Merrill Lynch
5/5/17
--
S-1
--
--
--
--
--
6/13
--
Gadsden Growth Properties, Inc.
S-1
National Securities
5/5/17
--
S-1
--
--
--
--
--
--
6/21
Advantage Solutions Inc.
S-1
Goldman Sachs
5/4/17
--
S-1
--
--
--
--
6/9
--
--
Nine Energy Service, Inc.
S-1
JPMorgan
5/2/17
--
S-1
--
5/19
5/24
--
--
--
--
GPM Petroleum LP
S-1
Raymond James
4/28/17
--
5/5
--
--
--
5/31
--
6/14
--
Co-Diagnostics, Inc.
S-1
WallachBeth
4/28/17
6/9/17
--
--
--
5/24
--
6/9
--
6/23
Avenue Therapeutics, Inc.
S-1
Oppenheimer
4/28/17
5/19/17
--
--
5/19
--
--
--
--
6/23
TPG RE Finance Trust, Inc.
S-11
BofA Merrill Lynch
4/25/17
--
--
--
--
--
5/30
--
--
6/21
Dole Food Company, Inc.
S-1
Morgan Stanley
4/24/17
--
--
--
--
--
5/31
--
--
--
Hunting Dog Capital Corp.
S-1
Joseph Gunnar
4/19/17
5/24/17
--
--
--
5/24
--
--
6/14
--
Newater Technology, Inc.
F-1
ViewTrade
4/18/17
4/18/17
--
--
--
--
6/2
--
--
6/20
Vine Resources Inc.
S-1
Credit Suisse
4/10/17
--
5/5
--
--
--
--
--
--
--
Frontier Group Holdings, Inc.
S-1
Citigroup
3/31/17
--
--
5/9
--
5/23
--
--
6/12
--
Akcea Therapeutics, Inc.
S-1
Cowen and Co.
3/27/17
6/20/17
--
5/9
--
--
--
--
--
6/20
Liberty Oilfield Services Inc.
S-1
Morgan Stanley
2/14/17
--
5/2
--
--
5/23
--
--
--
--
FTS International, Inc.
S-1
Credit Suisse
2/10/17
--
5/5
--
--
--
--
--
--
--
Frankly Inc.
S-1
Roth Capital
11/10/16
5/11/17
--
5/11
5/19
5/22
6/2
--
6/16
--
Mota Group, Inc.
S-1
Joseph Gunnar
10/5/16
4/25/17
--
5/9
5/16
--
--
--
--
--
Albertsons Companies, Inc.
S-1
Goldman Sachs
7/8/15
--
--
5/11
--
--
--
--
--
--
IPO Line-Up includes all IPO registrants that have filed to go public in the U.S., have neither gone public nor formally withdrawn their offering by filing a Form RW with the SEC, and have had filing activity in the most recent eight week period. IPO Line-Up includes all SEC registered IPOs, including REITs and those non-U.S. IPO filers seeking to list in the U.S. markets, except for 1) closed-end funds; 2) best-efforts, self-underwritten, and direct offerings; and 3) small business IPOs with an offering amount of less than $5 million. IPO Line-Up: Recent SEC IPO Filing Activity is based on information provided from the IPO Vital Signs System located at https://www.ipovitalsigns.com/