IPO News Desk
The IPO Winners' Circle: 2017 IPO Leadership
In 2017, the IPO market bounced back from a disappointing previous year and finished with 189 deals that raised a total of $44 billion. Those 189 deals represent a 61% increase from 2016's 117 new issues, while aggregate IPO proceeds more than doubled the $21.8 billion raised in the prior year. 2017's IPO total was only slightly ahead of 2015's 185 deals, but the year's offerings generated $11 billion more in proceeds than those in 2015 did.
A stellar performance in 2017's broader markets boosted the confidence of IPO and other investors. The Dow Jones Industrial Average gained 5,000 points in a year for the first time in its history, and surged past the 24,000 mark in late November. Meanwhile, the S&P 500 was also strong, gaining 20% over the course of the year.
Also bolstering 2017's IPO market was a second-half surge of new issues by Chinese and other non-U.S. companies. Overall, 41 non-U.S. companies completed U.S. IPOs in 2017, up from 23 in 2016. This marked the first time in three years that the number of non-U.S. companies going public in U.S. markets rose. Nineteen China-headquartered issuers went public in the U.S. in 2017, 15 of which completed their deals after September 18th. Only six China-based companies went public in the U.S. in all of 2016. 2017 also saw four deals by companies based in the U.K. and three IPOs by Canadian companies. Luxembourg and Argentina were home to two new issuers apiece. Denmark and France, which last produced U.S. IPO companies in 2015, each was home to one new issuer in 2017.
2017 also saw the advent of the dual-class IPO share structure controversy. The debate was ignited by Snap Inc., which went public in March with an offering of shares that provided no voting rights to IPO investors. While it is not uncommon for founding shareholders to retain voting control of a company after an IPO, Snap's decision to give no votes to investors caught the attention of corporate governance advocates.
In the wake of Snap's offering, the Council of Institutional Investors called for companies with multiple classes of shares to be removed from equity indices such as the S&P 500 and FTSE Russell. Their reasoning was that if a company denies shareholders' representation, then it should not be listed. The indices complied, but in the end industry observers agreed that the dual-class share controversy did not stop companies from using the structure or from moving ahead with their IPO plans.
Snap's $3.4 billion public market debut was 2017's largest IPO, and was one of only three deals to top $1 billion in proceeds. The second largest new issue was Altice USA's $1.92 billion sale on June 21st. The other issuer whose offering topped $1 billion in proceeds was single-family homes REIT Invitation Homes. The Dallas company raised $1.54 billion in its January 31st offering.
2017's IPO market performance was weighted toward the second and fourth quarters, with each accounting for 61 deals. By month, November was the busiest with 28 completed offerings, six more than in October, the next busiest month. February was the quietest month with just six IPOs that generated an aggregate of $630 million in proceeds.
For the first year since 2012, pharmaceutical preparations (SIC 2834) was not the top performing IPO industry sector. Blank Checks (6770) took the number one spot with 34 new issues, or 18% of the year's 189 deals. SIC 6770 had finished second in each of 2015 and 2016. SIC 2834 companies accounted for 30 new issues, or 15.9% of 2017's IPO market. Prepackaged software companies repeated their third place finish in 2017 with 13 new issues, four ahead of biological products companies. 2017's 34 deals by blank checks companies generated an aggregate $9 billion in proceeds, representing 20.4% of all IPO proceeds for the year. Pharmaceutical preparations deals tallied $2.77 billion in proceeds to finish a distant second.
2017's top first-day performance was turned in by ReTo Eco-Solutions, a Beijing-based maker of eco-friendly construction materials. The company posted a 111% gain in its November 28th public market debut. ReTo Eco-Solutions was the only new issuer in 2017 whose shares more than doubled in value on their first trading day. Newater Technology was the next best first-day performer at +78.6% after one day of trading, followed by Rhythm Pharmaceuticals at +76.5%. Newater finished the year with an 87.8% gain, making it the 13th best aftermarket performer of the year. The top performance was turned in by AnaptysBio. The developer of antibody therapies for inflammation rose 571% between its January 25th debut and the end of the year.
And now for the IPO professional leaders of 2017 – The IPO Winners' Circle.
IPO Law Firms – The ranks of IPO active law firms increased year-over-year from 105 in 2016 to 139 in 2017. In 2017, 11 firms reached double digits in the number of assignments, up from five double-digit firms in 2016. Ten law firms hit double digits in 2015.
2017's law firm rankings look similar to 2016's, with each of the top five firms remaining among the five busiest. There was only a slight shake-up in order. Leading the way for the seventh consecutive year was Latham & Watkins. The firm advised on 36 IPOs last year, one more than its 2016 industry-leading total. Latham's representations accounted for 19% of the IPO market in 2016, down from its 29.9% share the prior year.
Davis Polk & Wardwell and Cooley each worked on 29 deals, but Davis Polk's aggregate proceeds were narrowly ahead of Cooley's at $6.35 billion vs. $6.29 billion, respectively. Goodwin Procter repeated its 4th place finish, while Skadden, Arps, Slate, Meagher & Flom once again rounded out the top five. Goodwin worked on 22 IPOs, up from 16 assignments in 2016. Skadden increased its IPO total from 12 in 2016 to 19 last year.
Skadden finished 2017 two representations ahead of the next closest firm, Vinson and Elkins. Vinson and Elkins' total rose from five in 2016 to 17 last year, and the firm climbed in the year-end rankings from 14th place to 6th. Vinson and Elkins' 17 IPOs edged out Maples and Calder, which had 16 representations. Maples and Calder ranked 7th for the year, just ahead of Ellenoff Grossman. Rounding out the 2017 top ten were Simpson Thacher & Bartlett and Wilson, Sonsini, Goodrich & Rosati, each with 12 assignments. Ellenoff Grossman replaced Fenwick & West in the top ten. Fenwick's IPO assignments dropped from seven in 2016 to four in 2017, and its ranking fell from 8th to 34th.
Firms that made large moves up in 2017's rankings included Graubard Miller, which claimed 12th place after finishing 31st in 2016. Graubard's IPO work increased from two representations in 2016 to nine in 2017. Fangda Partners improved from 28th place in 2016 to 16th last year by increasing its IPO representations from two to seven. Mintz, Levin, Cohn, Ferris, Glovsky & Popeo worked on six IPOs in 2017, up from one the prior year. As a result, the firm finished 2017 as one of the 20 busiest IPO law firms.
By aggregate IPO proceeds generated in 2017, Latham claimed the top spot with $8.4 billion, outdistancing Goodwin Procter by $586 million. Latham's total was well above the $6.2 billion in proceeds that earned it 2016's number one ranking. Latham's 2017 total proceeds represented a 19.1% share of the IPO market. Davis Polk ranked 3rd by aggregate proceeds in 2017 at $6.35 billion, just ahead of Cooley's $6.29 billion. In 2016, only Latham generated aggregate proceeds of $5 billion or more, but six firms reached that level in 2017.
IPO Law Firms
Winners' Circle 2017
Top Twenty IPO Law Firms
Combined Issuer's & Underwriters'
Representations
Ranked by Number of IPOs
(tie-breaks by Aggregate IPO Offer Amt.)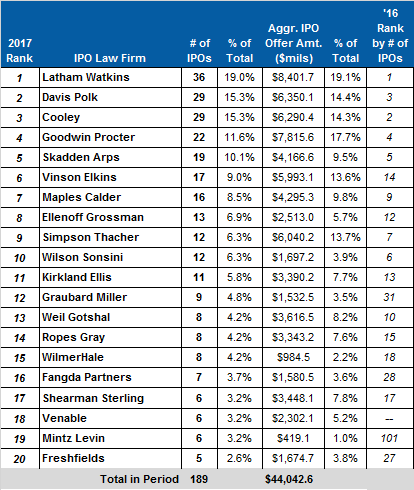 -- excludes overallotment option --
--equal credit for joint representations--
IPO Vital Signs Subscribers see,
#160. IPO Counsel (IPO Issuer's plus
IPO Underwriters' Mandates) -
IPO Leadership Rankings
IPO Lead Managers – The number of investment banks acting as lead manager increased from 56 in 2016 to 68 in 2017. The number of lead managers with IPO totals in the double-digits also rose from 2016's total (15 in 2017 and 10 in 2016).
Measured by number of IPOs, JPMorgan claimed the number one ranking with 50 deals brought to market. The bank finished in 2nd place in 2016 and 4th place in 2015. Morgan Stanley finished in 2nd place with 49 IPOs, just one behind JPMorgan. As measured by aggregate proceeds, however, Morgan Stanley was the 2017 winner with $19.4 billion in proceeds, $374 million ahead of Goldman Sachs.
Goldman, which took top honors by number of IPOs in 2016, fell to 4th place last year with 43 deals. Citi finished ahead of Goldman in the 2017 rankings with 46 IPOs. Each of JPMorgan, Morgan Stanley and Citi moved up one place from their 2016 year-end rankings.
Credit Suisse improved its year-over-year performance by 17 IPOs, from 22 in 2016 to 39 in 2017. With that increased output, the bank was able to hold onto 5th place in the year-end rankings. Bank of America Merrill Lynch was also busier in 2017 than the prior year, and its 26 deals earned it a 6th place finish for 2017. The bank had finished 7th the previous year.
Jefferies climbed from 9th place in 2016 to 7th in 2017, while Barclays Bank moved in the other direction. The bank worked on 20 IPOs last year, one more than in 2016, but fell from 6th to 9th place. Barclays' 20 deals were one fewer than Deutsche Bank, which maintained its 8th place finish for the second straight year. Similarly, Cowen stayed in the number 10 spot despite working on eight more IPOs than it did in 2016.
Although their order in the year-end rankings shifted, the top ten investment banks in 2017 were the same as in 2016. UBS, the 11th ranked bank in 2016, fell to 13th place in 2017 with 11 IPOs. Wells Fargo worked on 15 deals in 2017 and improved from 14th to 11th place. RBC Capital and Stifel Nicolaus improved their rankings by one place between 2016 and 2017.
The year's most lucrative deals were spread among multiple co-lead managers. Snap employed both Morgan Stanley and Goldman Sachs as lead managers, with co-managers including JPMorgan, Deutsche Bank, Barclays, Credit Suisse and Allen. Altice USA's $1.9 billion offering was handled by ten different co-lead managers. Invitation Homes, the only other new issuer to top $1 billion in IPO proceeds last year, hired Deutsche Bank and JPMorgan as lead underwriters, and employed a syndicate of 15 co-managers.
IPO Lead Managers
Winners' Circle 2017
Top Fifteen Lead Managers
Rank by Number of IPOs
(tie-breaks by Aggregate IPO Offer Amt.)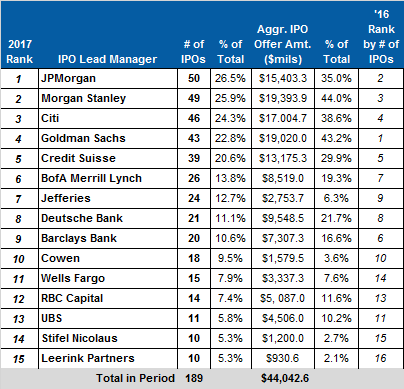 -- excludes overallotment option --
-- equal credit for joint mandates --
IPO Vital Signs Subscribers see,
#175. IPO Lead Managers -
IPO Leadership Rankings
IPO Auditors – The number of accounting firms acting as IPO auditor in 2017 was 29, 14 more than in 2016 and five more than in 2015. The Big Four firms continued to occupy the top four spots in the rankings. Marcum finished 5th for the second straight year, two IPOs behind 4th place finisher KPMG.
In 2017, Ernst & Young regained the top spot in IPO auditor year-end rankings after relinquishing it to PricewaterhouseCoopers in 2016. Ernst & Young had been the number one IPO audit firm in each of the five years prior to 2016. In 2017, the firm worked on 38 IPOs, eight more than PwC. Although Ernst & Young's total is an improvement over its 24 IPO assignments in 2016, it was still well short of the audit firm's 50 assignments in 2015 and 83 in 2014.
Ernst & Young claimed 20.1% of 2017's IPOs, and 26.5% of the aggregate proceeds. The audit firm's total proceeds of $11.7 billion more than doubled its 2016 total, an indicator of the IPO market's return to health in 2017. Ernst & Young's proceeds outpaced the next closest audit firm, Deloitte & Touche, by $4.1 million. PwC and KPMG finished 2017 with $6.54 billion and $6.52 billion in aggregate proceeds, respectively.
While only PwC and Deloitte surpassed $5 billion in total proceeds in 2016, all of the Big Four firms passed that threshold in 2017. Three other auditors generated more than $1 billion in proceeds, including WithumSmith ($4.1 billion), Marcum ($3.3 billion) and Grant Thornton ($1.03 billion).
Nine of the top ten auditors remained the same from 2016 to 2017. Crowe Horwath, which ended 2016 without any IPO assignments, moved into the top ten in 2017, replacing CohnReznick. RSM US fell back one spot in the rankings from 9th to 10th. Grant Thornton and BDO International more than doubled their IPO assignments in 2017 compared to 2016, and held onto spots in the top ten.
IPO Auditors
Winners' Circle 2017
Top Ten IPO Auditors
Rank by Number of IPOs
(tie-breaks by Aggr. Offer Amt.)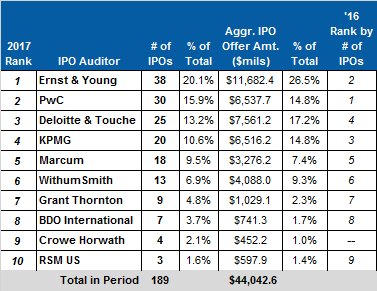 -- excludes overallotment option --
IPO Vital Signs Subscribers see,
#184. IPO Auditors -
IPO Leadership Rankings

The IPO Line-Up
IPO Line-Up Rises Six to 50 Eight-Week Active Registrants
Bermuda-Based Insurance Income Strategies Rejoins IPO Line-Up with Amendment That Includes Price Range
Nine Initial Price Ranges Filed
Crescent Funding Establishes Price Range In Initial Public Registration
Americold Realty Trust Sets Price Range In First of Two Amendments Filed In Week
Gates Industrial Also Files Two Amendments In Week, Second of Which Includes Price Range
Menlo Therapeutics, PagSeguro, Eyenovia Amend Public Registrations for the First Time, Determine Price Ranges
Amendment No. 2 by China's Farmmi Includes Price Range
May 2017 Registrant Nine Energy Services Files Amendment No. 6, Establishes Price Range
Six Other Registrants File Amendments
Iron Horse Acquisition and Central Puerto File Amendments No. 1 In Week After Publicly Registering
ADT and Entera Bio, Which Set Their Price Ranges In Previous Week, Amend Registrations
IPO Line-Up
(Ranked by Initial Filing Date)
The IPO Line-Up contains IPO Registrants that have had filing activity in the last 8 weeks and have not gone public or withdrawn from registration.
IPO Registrants that are red and bold indicate that a filing with the initial IPO price range has been filed with the SEC.
Vista Proppants and Logistics Inc.
S-1
Citigroup
1/12/18
--
--
--
--
--
--
--
--
S-1
IPSCO Tubulars Inc.
S-1
BofA Merrill Lynch
1/12/18
--
--
--
--
--
--
--
--
S-1
Huami Corporation
F-1
Credit Suisse
1/12/18
--
--
--
--
--
--
--
--
F-1
Crescent Funding Inc.
S-1
UBS
1/12/18
1/12/18
--
--
--
--
--
--
--
S-1
Cardlytics, Inc.
S-1
BofA Merrill Lynch
1/12/18
--
--
--
--
--
--
--
--
S-1
Cactus, Inc.
S-1
Citigroup
1/12/18
--
--
--
--
--
--
--
--
S-1
Biofrontera Inc.
F-1
Benchmark
1/12/18
--
--
--
--
--
--
--
--
F-1
Victory Capital Holdings, Inc.
S-1
JPMorgan
1/11/18
--
--
--
--
--
--
--
--
S-1
Evolus, Inc.
S-1
Cantor Fitzgerald
1/9/18
--
--
--
--
--
--
--
--
S-1
Bioceres S.A.
F-1
Jefferies
1/8/18
--
--
--
--
--
--
--
--
F-1
Motus GI Holdings, Inc.
S-1
Piper Jaffray
1/5/18
--
--
--
--
--
--
--
S-1
--
Iron Horse Acquisition Corp.
S-1
Citigroup
1/5/18
1/5/18
--
--
--
--
--
--
S-1
1/12
Central Puerto S.A.
F-1
BofA Merrill Lynch
1/3/18
--
--
--
--
--
--
--
F-1
1/9
Solid Biosciences Inc.
S-1
JPMorgan
12/29/17
--
--
--
--
--
--
S-1
--
--
resTORbio, Inc.
S-1
BofA Merrill Lynch
12/29/17
--
--
--
--
--
--
S-1
--
--
DFB Healthcare Acquisitions Corp.
S-1
Goldman Sachs
12/29/17
12/29/17
--
--
--
--
--
S-1
--
--
ARMO BioSciences, Inc.
S-1
Jefferies
12/29/17
--
--
--
--
--
--
S-1
--
--
Menlo Therapeutics Inc.
S-1
Jefferies
12/28/17
1/12/18
--
--
--
--
--
S-1
--
1/12
Gates Industrial Corporation plc
S-1
Citigroup
12/27/17
1/12/18
--
--
--
--
--
S-1
--

1/8;

1/12
PagSeguro Digital Ltd.
F-1
Goldman Sachs
12/26/17
1/9/18
--
--
--
--
--
F-1
--
1/9
Gordon Pointe Acquisition Corp.
S-1
B. Riley FBR
12/22/17
12/22/17
--
--
--
--
S-1
--
--
--
Golden Bull Limited
F-1
ViewTrade
12/22/17
12/22/17
--
--
--
--
F-1
--
--
1/12
ADT Inc.
S-1
Morgan Stanley
12/21/17
1/5/18
--
--
--
--
S-1
--
1/5
1/8
PlayAGS, Inc.
S-1
Credit Suisse
12/19/17
--
--
--
--
--
S-1
--
--
--
Eyenovia, Inc.
S-1
Ladenburg
12/19/17
1/10/18
--
--
--
--
S-1
--
--
1/10
One Stop Systems, Inc.
S-1
Roth Capital
12/18/17
--
--
--
--
--
S-1
--
--
--
VICI Properties Inc.
S-11
Morgan Stanley
12/12/17
--
--
--
--
S-11
--
--
--
--
MTech Acquisition Corp.
S-1
EarlyBirdCapital
12/8/17
12/8/17
--
--
S-1
--
--
--
--
--
Corporacion America Airports S.A.
F-1
Oppenheimer
12/6/17
--
--
--
F-1
--
12/22
--
--
1/10
Advantage Insurance Inc.
S-1
Raymond James
11/16/17
12/1/17
--
12/1
--
--
--
--
--
--
GigCapital, Inc.
S-1
Cowen
11/15/17
11/15/17
--
11/28
--
--
--
--
--
--
Hudson Ltd.
F-1
Credit Suisse
11/14/17
--
--
--
--
--
12/19
--
--
--
Farmmi, Inc.
F-1
ViewTrade
11/14/17
1/9/18
--
--
12/4
--
--
--
--
1/9
Camposol Holding Plc
F-1
BofA Merrill Lynch
11/14/17
--
--
--
--
--
--
12/29
--
--
Americold Realty Trust
S-11
BofA Merrill Lynch
11/14/17
1/9/18
--
--
--
--
12/19
--
--
1/9

;1/12

TFI TAB Gida Yatirimlari A.S.
F-1
Morgan Stanley
11/13/17
--
--
--
--
--
--
12/29
--
--
Entera Bio Ltd.
F-1
Oppenheimer
11/9/17
1/5/18
11/20
--
--
--
--
--
1/5
1/10
Senmiao Technology Limited
S-1
ViewTrade
10/30/17
--
11/22
--
--
--
--
12/29
--
--
Insurance Income Strategies Ltd.
S-1
Joseph Gunnar
10/24/17
1/12/18
--
--
--
--
--
--
--
1/12
Workspace Property Trust
S-11
Goldman Sachs
10/13/17
--
--
--
--
--
12/21
--
--
--
One Madison Corporation
S-1
Credit Suisse
10/13/17
10/13/17
--
--
--
--
--
--
1/5
--
Howard Midstream Partners, LP
S-1
Barclays
9/12/17
--
11/21
--
--
--
--
--
--
--
Hancock Jaffe Laboratories, Inc.
S-1
WallachBeth
9/7/17
11/6/17
--
--
12/5
12/14
--
--
--
--
Adial Pharmaceuticals, Inc.
S-1
Joseph Gunnar
9/6/17
9/6/17
11/22
--
--
--
--
--
--
--
Sol-Gel Technologies Ltd.
F-1
Jefferies
8/29/17
--
--
--
--
--
--
12/29
--
--
ProLung, Inc.
S-1
Maxim Group
8/4/17
10/17/17
--
11/28
--
--
12/21
--
--
--
LiveXLive Media, Inc.
S-1
BMO
5/11/17
10/6/17
--
--
--
12/15
--
--
--
--
US LBM Holdings, Inc.
S-1
Barclays
5/9/17
--
--
--
--
12/14
--
--
--
--
Nine Energy Service, Inc.
S-1
JPMorgan
5/2/17
1/9/18
--
--
--
--
12/21
--
--
1/9
Vine Resources Inc.
S-1
Credit Suisse
4/10/17
--
11/21
--
--
--
--
--
--
--
IPO Line-Up includes all IPO registrants that have filed to go public in the U.S., have neither gone public nor formally withdrawn their offering by filing a Form RW with the SEC, and have had filing activity in the most recent eight week period. IPO Line-Up includes all SEC registered IPOs, including REITs and those non-U.S. IPO filers seeking to list in the U.S. markets, except for 1) closed-end funds; 2) best-efforts, self-underwritten, and direct offerings; and 3) small business IPOs with an offering amount of less than $5 million. IPO Line-Up: Recent SEC IPO Filing Activity is based on information provided from the IPO Vital Signs System located at https://www.ipovitalsigns.com/