IPO News Desk
Non-U.S. Companies Boost Late Summer IPO Performance
With three completed deals and four new registrations so far in August, non-U.S. companies are helping to bolster IPO numbers in an otherwise lackluster month. Historically, August is among the slowest months of the year for IPOs, and 2017 is no exception. With no IPOs in the most recent week, the monthly total is holding at just eight new issues to date.
August's tally represents a slowdown from July when 14 deals were completed, and from the 20 IPOs in June. This is consistent with August's IPO totals over the past several years. The number of new issues last August dropped to eight from 14 in July, and in 2015 they fell from 19 in July to 12 in August. Even in 2014, the busiest year for new issues in the past decade, August saw only 10 completed offerings following 37 in July.
This year, three of August's eight IPOs and four of the month's seven new registrations through August 25th were by non-U.S. companies. Overall, offshore companies have completed 17 new issues this year, accounting for 15% of the market. In 2016, 23 IPOs by non-U.S. issuers comprised about 20% of the year's total. At the current rate, 2017 will certainly eclipse 2016's total, but is likely to fall short of the 41 and 67 foreign issuers in 2015 and 2014, respectively.
Chinese Issuers – China is once again a central player in the discussion about U.S. IPOs by companies headquartered overseas. It is leading the way in 2017 with four IPO companies, one ahead of Canada's three new issuers through August 25th. China is also home to nine of the year's 20 non-U.S. new registrants, including four filers in August.
U.S. IPOs by Chinese companies accounted for about 25% of the non-U.S. issuer market in 2016 with six of the 23 offerings. In 2015, only seven of the 41 non-U.S. issuers that priced in the U.S. were headquartered in China. In 2014, the country was home to 17 new issuers. China's best showing in recent years was in 2010 when 40 of 60 non-U.S. issuers were headquartered there.
Non-U.S. Headquartered IPOs
2007 Through August 2017*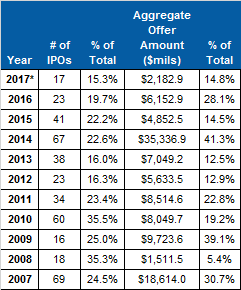 (* Data through August 25, 2017)
IPO Vital Signs Subscribers see,
#328. Headquarters.
Geographic Diversity – Despite China's dominance, the non-U.S. segment of the IPO market continues to show considerable geographic diversity. To date, companies from 11 different countries have participated in the U.S. IPO market this year. Last year, companies came to U.S. markets from 14 countries, and 16 nations were represented in 2015. Issuers from 20 countries participated in 2014's U.S. IPO market. After China and Canada, the U.K. (two IPO companies) is the only other country that is home to more than one new issuer in 2017. This year, Denmark produced an IPO company for the first time since January 2015.
Israel is home to one new issuer in 2017, matching its entire output for 2016. Those numbers represent a slowdown for Israel, which has routinely produced multiple IPO companies—seven in 2015 and 12 in 2014—in recent years. Noticeably absent so far in 2017 is Bermuda, which was home to nine IPO companies between 2014 and 2016.
New Registrations – This year, 20 new non-U.S. companies filed preliminary registrations through August 25th. During the same period last year, 13 foreign issuers publicly filed plans to begin trading in U.S. markets. Of the 20 new filers this year, 13 have already completed their offerings, which does not leave much of a pipeline of foreign issuers waiting to go public in the U.S. Those companies that have pending registration statements as of August 25th are from Argentina, China and Israel.
Non-U.S. Incorporations – A survey of countries of incorporation since the start of 2017 shows ten different countries from which IPO issuers have come to the U.S. In 2016 and 2015, 13 and 16 countries served as jurisdiction of incorporation for at least one IPO, respectively. The Cayman Islands, where most Chinese companies executing U.S. IPOs incorporate, is the leading country of incorporation this year. Its six incorporations are one ahead of the British Virgin Islands. Twelve companies that went public in the U.S. in 2016 were incorporated in the Cayman Islands, up from 11 in 2015.


The IPO Line-Up
IPO Line-Up Rises Five to 30 Eight-Week Active Registrants
Oasis Midstream Partners Rejoins IPO Line-Up with First Filing Since June 2nd
Albertsons Companies Files Amendment No. 11, Is Back Among Eight-Week Active Registrants
Two Initial Price Ranges Filed
Social Capital Hedosophia Holdings and Draper Oakwood Technology Acquisition Set Price Ranges In Initial Filings
One Other Registrant Files Amendment
Zai Lab Files Amendment No. 1 In Week After Publicly Registering
IPO Line-Up
(Ranked by Initial Filing Date)
The IPO Line-Up contains IPO Registrants that have had filing activity in the last 8 weeks and have not gone public or withdrawn from registration.
IPO Registrants that are red and bold indicate that a filing with the initial IPO price range has been filed with the SEC.
Secoo Holding Limited
F-1
Jefferies
8/25/17
--
--
--
--
--
--
--
--
F-1
Draper Oakwood Technology Acquisition
S-1
EarlyBirdCapital
8/25/17
8/25/17
--
--
--
--
--
--
--
S-1
Social Capital Hedosophia Holdings Corp.
S-1
Credit Suisse
8/23/17
8/23/17
--
--
--
--
--
--
--
S-1
Celcuity LLC
S-1
Craig-Hallum
8/23/17
--
--
--
--
--
--
--
--
S-1
Krystal Biotech, Inc.
S-1
Ladenburg
8/21/17
--
--
--
--
--
--
--
--
S-1
Zai Lab Limited
F-1
JPMorgan
8/15/17
--
--
--
--
--
--
--
F-1
8/23
Despegar.com, Corp.
F-1
Morgan Stanley
8/15/17
--
--
--
--
--
--
--
F-1
--
TDH Holdings, Inc.
F-1
ViewTrade
8/10/17
--
--
--
--
--
--
F-1
--
--
Preferred Sands, Inc.
S-1
Credit Suisse
8/10/17
--
--
--
--
--
--
S-1
--
--
Quintana Energy Services Inc.
S-1
BofA Merrill Lynch
8/9/17
--
--
--
--
--
--
S-1
--
--
ReTo Eco-Solutions, Inc.
F-1
ViewTrade
8/4/17
8/4/17
--
--
--
--
F-1
--
--
--
ProLung, Inc.
S-1
Maxim Group
8/4/17
--
--
--
--
--
S-1
--
--
--
BJ Services, Inc.
S-1
Goldman Sachs
7/14/17
--
--
S-1
--
7/25;7/28
--
--
--
--
Torrid Inc.
S-1
BofA Merrill Lynch
7/10/17
--
--
S-1
--
--
--
--
--
--
Tremont Mortgage Trust
S-11
UBS
7/7/17
--
S-11
--
--
--
8/2
--
8/15
--
BEST Inc.
F-1
Citigroup
6/26/17
--
--
--
--
7/27
--
--
8/17
--
Vencore Holding Corp.
S-1
Goldman Sachs
6/21/17
--
--
--
--
--
--
8/11
--
--
PQ Group Holdings Inc.
S-1
Morgan Stanley
6/9/17
--
--
--
7/18
--
--
--
8/14
--
Oasis Midstream Partners LP
S-1
Morgan Stanley
5/12/17
--
--
--
--
--
--
--
--
8/21
US LBM Holdings, Inc.
S-1
Barclays
5/9/17
--
--
--
--
--
8/4
--
--
--
Gadsden Growth Properties, Inc.
S-11
National Securities
5/5/17
6/23/17
--
--
7/19
--
--
--
--
--
Nine Energy Service, Inc.
S-1
JPMorgan
5/2/17
--
--
--
--
--
--
8/11
--
--
GPM Petroleum LP
S-1
Raymond James
4/28/17
--
--
--
--
--
--
--
8/15
--
Liberty Oilfield Services Inc.
S-1
Morgan Stanley
2/14/17
--
--
--
--
--
--
--
8/18
--
FTS International, Inc.
S-1
Credit Suisse
2/10/17
--
--
--
--
--
8/4
--
--
--
Frankly Inc.
S-1
Roth Capital
11/10/16
5/11/17
--
--
7/18
--
--
--
--
--
OrthoPediatrics Corp.
S-1
Piper Jaffray
6/16/16
--
--
--
--
--
--
8/10
--
--
Albertsons Companies, Inc.
S-1
Goldman Sachs
7/8/15
--
--
--
--
--
--
--
--
8/22
Bicapital Corporation
F-1
BofA Merrill Lynch
5/22/15
--
--
7/11
--
--
--
--
--
--
Intrepid Aviation Limited
S-1
Goldman Sachs
11/12/14
--
--
--
--
--
7/31
--
--
--
IPO Line-Up includes all IPO registrants that have filed to go public in the U.S., have neither gone public nor formally withdrawn their offering by filing a Form RW with the SEC, and have had filing activity in the most recent eight week period. IPO Line-Up includes all SEC registered IPOs, including REITs and those non-U.S. IPO filers seeking to list in the U.S. markets, except for 1) closed-end funds; 2) best-efforts, self-underwritten, and direct offerings; and 3) small business IPOs with an offering amount of less than $5 million. IPO Line-Up: Recent SEC IPO Filing Activity is based on information provided from the IPO Vital Signs System located at https://www.ipovitalsigns.com/