The IPO Week
Six IPOs
Blank Checks Company Vantage Energy Acquisition Completes $480 Million Public Offering
Vantage Energy Is 2017's Seventh Blank Checks (SIC 6770) IPO In the U.S.
Netshoes (Cayman) Is the First Brazil-Headquartered Company to Go Public In the U.S. Since 2014
Last Retail-Catalog & Mail-Order Houses (SIC 5961) IPO Was China-Headquartered Baozun's May 2015 Offering
Tocagen, the First Pharmaceutical Preparations (SIC 2834) New Registrant of 2017, Begins Trading
Morgan Stanley Brings Digital Knowledge Platform Developer Yext to Market with $115 Million IPO
With Warrior Met Coal's IPO, Energy Industry Adds Another Company to the Public Market
Alabama-Based Company Is the Second Silver Ores (SIC 1220) IPO Issuer of 2017 and the Third Since June 2015
Bank Holding Company Cadence Bancorporation Makes Public Market Debut, Raises $150 Million
With Cadence Offering, Texas Maintains Lead as 2017's Top IPO Producing State
Six Initial IPO Filings
Two Blackstone Group-Backed Energy Companies File Initial Public Registrations
Natural Gas Company Vine Resources Acquired Northwestern Louisiana Shale Plays from Shell In 2014, Plans $500 Million Offering
Oklahoma-Based Tapstone Develops Oil and Natural Gas Condensate Resources In the Anadarko Basin In Oklahoma, Texas and Kansas
Safety, Income and Growth Registers On Form S-11
REIT Was Formed Primarily to Acquire, Own, Manage, Finance and Capitalize Ground Net Leases (GNLs)
Two REITs (SIC 6798) Have Gone Public So Far In 2017
JPMorgan Securities Tapped to Lead Offerings by Altice USA and G1 Therapeutics
Altice Delivers Broadband, Pay Television, Telephony Services, Wi-Fi Hotspot Access, Proprietary Content and Advertising Services
G1 Therapeutics Is Focused On the Discovery and Development of Novel Therapeutics for the Treatment of Cancer

Ovid Therapeutics Joins G1 Therapeutics as Week's Other Biopharmaceutical IPO Filer
Ovid Develops Medicines for Patients and Families Living with Rare Neurological Disorders
There Have Been Three Pharmaceutical Prep (SIC 2834) IPOs In 2017, Compared to Six by This Time Last Year
No IPO Withdrawals
| IPO Offerings | Form Type | | Initial Filing Date | Offer Date |
| --- | --- | --- | --- | --- |
| Vantage Energy Acquisition Corp. | 424B4 | Citigroup Global Markets Inc. | 2/17/17 | 4/10/17 |
| Netshoes (Cayman) Limited | 424B4 | Goldman, Sachs & Co. | 3/15/17 | 4/11/17 |
| Cadence Bancorporation | 424B4 | Goldman, Sachs & Co. | 3/17/17 | 4/12/17 |
| Tocagen Inc. | 424B4 | Leerink Partners LLC | 3/9/17 | 4/12/17 |
| Warrior Met Coal, Inc. | 424B4 | Credit Suisse Securities (USA) | 3/7/17 | 4/12/17 |
| Yext, Inc. | 424B4 | Morgan Stanley & Co. LLC | 3/13/17 | 4/12/17 |
Initial IPO Filings
Form Type
1st Lead Manager
Listed
Initial Filing Date
Ovid Therapeutics Inc.
S-1
Citigroup Global Markets Inc.
4/10/17
Safety, Income and Growth, Inc.
S-11
BofA Merrill Lynch
4/10/17
Vine Resources Inc.
S-1
Credit Suisse Securities (USA)
4/10/17
Altice USA, Inc.
S-1
JPMorgan Securities LLC
4/11/17
G1 Therapeutics, Inc.
S-1
JPMorgan Securities LLC
4/13/17
Tapstone Energy Inc.
S-1
BofA Merrill Lynch
4/13/17
IPO Withdrawals
Form Type
1st Lead Manager
Listed
Initial Filing Date
Withdrawal Date
No IPO Withdrawals
--
--
--
--
IPO News Desk
PCAOB Shines Light On Emerging Growth Companies
The PCAOB's Office of Research and Analysis recently issued a white paper on the characteristics of emerging growth companies to help inform the Board in its rulemaking releases about the impact of applying new standards to their audits. The JOBS Act generally provides that new PCAOB standards will not apply to the audits of EGCs unless the SEC determines that it is necessary or appropriate in the public interest. When the Board adopts a rule subject to this determination, it makes a recommendation to the SEC about whether the rule should apply to the audits of EGCs and submits information and analysis to assist the SEC in making its determination.
The information for the paper was obtained from SEC filings and third-party vendors through November 15, 2016. To qualify as an EGC, a company must have less than $1 billion in annual revenues in its most recently completed fiscal year and must not have sold common equity securities on or before December 8, 2011 pursuant to a Securities Act registration statement.
The company retains its EGC status until the earliest of the first day of the fiscal year in which its annual gross revenues are $1 billion or more; the date on which it is deemed to be a large accelerated filer under the Exchange Act; the date on which it has issued more than $1 billion in non-convertible debt during the prior three-year period; or the last day of the fiscal year after the fifth anniversary of its first sale of common equity securities under an effective Securities Act registration statement.
2017 EGC IPOs—To date in 2017, 33 of the 39 IPO companies have claimed EGC status. Similarly, of the 117 deals completed in 2016, 101 (86%) were completed by companies claimed to be EGCs. In 2015, 185 new issues were completed and 173 (94%) of those IPO companies identified as EGCs.
The six new issuers in 2017 that are not EGCs already have annual revenues well over $1 billion. Leading the way is Luxembourg-based Ardagh Group, which completed its IPO on March 14th. The provider of rigid packaging solutions reported revenues of $6.7 billion. Both Laureate Education and Schneider National already generate revenues of more than $4 billion. The other three non-EGC IPO issuers so far this year are REV Group, JEKLD-WEN Holding and Presidio.
2017 IPO Companies
Not Claiming EGC Status
(*Data through April 9, 2017)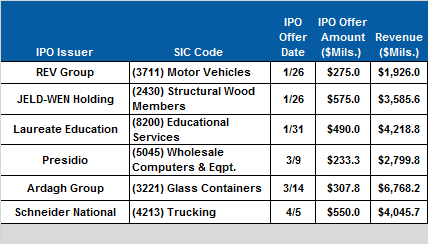 IPO Vital Signs Subscribers see,
#809. Emerging Growth Company Status
No longer qualify—The PCAOB staff found that the overwhelming majority of registrants that ceased to qualify as EGCs did so because their annual revenue exceeded $1 billion or they became a large accelerated filer, rather than as a result of issuing more than $1 billion in non-convertible debt.
As of November 15, 2016, 1,951 registrants identified themselves as EGCs in at least one SEC filing and had filed audited financial statements with the SEC in the preceding 18 months. Of these, 742 had common equity securities listed on a U.S. national securities exchange. The number of EGC filers grew after the enactment of the JOBS Act but has recently stabilized, according to the white paper, while the number of inactive EGCs has grown.
The staff found that 465 companies that had previously identified as EGCs had ceased to be SEC registrants by either terminating their Exchange Act registration, having their registration revoked, or withdrawing their registration before effectiveness. The staff found that many EGC filers were not exchange-listed and had limited operations.

Going concern—About 50 percent of the non-listed filers had no revenue to report in their most recent filing with audited financial statements, and 23 percent disclosed that they were shell companies. Approximately 51 percent of EGC filers had explanatory paragraphs in their auditor's reports expressing substantial doubts about their ability to continue as a going concern (IPO Vital Signs subscribers see #807. Going Concern Disclosure).
Of the 1,262 EGCs that provided a management report on internal control over financial reporting in their most recent annual filing, approximately 47 percent reported material weaknesses. Thirteen percent of the exchange-listed filers reported material weaknesses. EGCs are not required to obtain auditor attestations on the effectiveness of their ICFR, but two percent voluntarily provided an auditor's report on ICFR.

The IPO Line-Up
IPO Line-Up Rises One to 36 Eight-Week Active Registrants
Two Initial Price Ranges Filed
China Rapid Finance's First Amendment to Its Registration Includes Price Range
Select Energy Services Sets Price Range In Second of Two Amendments Filed In Week
Nine Other Registrants File Amendments
Four Filers Amend Registrations for the First Time: KKR Real Estate Finance, Emerald Expositions, Carvana, and Akcea Therapeutics
Cloudera Amends Registration Twice In Week
Solaris Oilfield Infrastructure Files Amendments In Consecutive Weeks
IPO Line-Up
(Ranked by Initial Filing Date)
The IPO Line-Up contains IPO Registrants that have had filing activity in the last 8 weeks and have not gone public or withdrawn from registration.
IPO Registrants that are red and bold indicate that a filing with the initial IPO price range has been filed with the SEC.
Tapstone Energy Inc.
S-1
BofA Merrill Lynch
4/13/17
--
--
--
--
--
--
--
--
S-1
G1 Therapeutics, Inc.
S-1
JPMorgan
4/13/17
--
--
--
--
--
--
--
--
S-1
Altice USA, Inc.
S-1
JPMorgan
4/11/17
--
--
--
--
--
--
--
--
S-1
Vine Resources Inc.
S-1
Credit Suisse
4/10/17
--
--
--
--
--
--
--
--
S-1
Safety, Income and Growth, Inc.
S-11
BofA Merrill Lynch
4/10/17
--
--
--
--
--
--
--
--
S-11
Ovid Therapeutics Inc.
S-1
Citigroup
4/10/17
--
--
--
--
--
--
--
--
S-1
UroGen Pharma Ltd.
F-1
Jefferies
4/7/17
--
--
--
--
--
--
--
F-1
--
Five Point Holdings, LLC
S-11
Citigroup
4/7/17
--
--
--
--
--
--
--
S-11
--
Biohaven Pharmaceutical Holding Co. Ltd.
S-1
Morgan Stanley
4/7/17
--
--
--
--
--
--
--
S-1
--
Guaranty Bancshares, Inc.
S-1
Sandler O'Neill
4/6/17
--
--
--
--
--
--
--
S-1
--
Verona Pharma plc
F-1
Jefferies
4/3/17
--
--
--
--
--
--
--
F-1
--
KKR Real Estate Finance Trust Inc.
S-11
Wells Fargo
4/3/17
--
--
--
--
--
--
--
S-11
4/13
Zymeworks Inc.
F-1
Citigroup
3/31/17
--
--
--
--
--
--
F-1
--
--
Frontier Group Holdings, Inc.
S-1
Citigroup
3/31/17
--
--
--
--
--
--
S-1
--
--
Emerald Expositions Events, Inc.
S-1
BofA Merrill Lynch
3/31/17
--
--
--
--
--
--
S-1
--
4/10
Cloudera, Inc.
S-1
Morgan Stanley
3/31/17
--
--
--
--
--
--
S-1
--
4/10;4/11
China Rapid Finance Limited
F-1
Morgan Stanley
3/31/17
4/14/17
--
--
--
--
--
F-1
--
4/14
Carvana Co.
S-1
Wells Fargo
3/31/17
--
--
--
--
--
--
S-1
--
4/10
National Energy Services Reunited Corp.
S-1
Maxim Group
3/29/17
--
--
--
--
--
--
S-1
--
--
Antero Midstream GP LP
S-1
Morgan Stanley
3/27/17
--
--
--
--
--
--
S-1
4/7
--
Akcea Therapeutics, Inc.
S-1
Cowen and Co.
3/27/17
--
--
--
--
--
--
S-1
--
4/10
ASV Holdings, Inc.
S-1
Roth Capital
3/24/17
--
--
--
--
--
S-1
--
--
--
WideOpenWest, Inc.
S-1
UBS
3/23/17
--
--
--
--
--
S-1
--
--
--
Veritone, Inc.
S-1
Wunderlich
3/15/17
--
--
--
--
S-1
--
--
--
--
Solaris Oilfield Infrastructure, Inc.
S-1
Credit Suisse
3/15/17
--
--
--
--
S-1
--
--
4/6
4/14
NCS Multistage Holdings, Inc.
S-1
Credit Suisse
3/9/17
--
--
--
S-1
--
--
--
--
--
Modern Media Acquisition Corp.
S-1
Macquarie Capital
3/8/17
3/8/17
--
--
S-1
--
3/24
--
4/4
--
Select Energy Services, Inc.
S-1
Credit Suisse
3/2/17
4/12/17
--
S-1
--
--
3/20
--
4/7

4/10;

4/12
Gardner Denver Holdings, Inc.
S-1
KKR
2/28/17
--
--
S-1
--
--
--
--
4/4
--
Liberty Oilfield Services Inc.
S-1
Morgan Stanley
2/14/17
--
--
--
3/10
--
--
--
--
4/10
FTS International, Inc.
S-1
Credit Suisse
2/10/17
--
--
2/28
--
--
--
--
--
4/11
Floor & Decor Holdings, Inc.
S-1
BofA Merrill Lynch
2/10/17
--
--
--
--
--
3/20
--
4/7
--
Immuron Limited
F-1
Joseph Gunnar
12/21/16
--
--
--
--
--
--
--
4/7
--
ENDRA Life Sciences Inc.
S-1
Dawson James
11/18/16
12/6/16
--
--
--
--
--
3/27
--
4/14
Accelerated Pharma, Inc.
S-1
Rodman Renshaw
10/11/16
10/11/16
--
--
--
--
--
3/28
--
--
Plymouth Industrial REIT, Inc.
S-11
D.A. Davidson
6/16/14
--
--
--
--
--
--
3/29
--
--
IPO Line-Up includes all IPO registrants that have filed to go public in the U.S., have neither gone public nor formally withdrawn their offering by filing a Form RW with the SEC, and have had filing activity in the most recent eight week period. IPO Line-Up includes all SEC registered IPOs, including REITs and those non-U.S. IPO filers seeking to list in the U.S. markets, except for 1) closed-end funds; 2) best-efforts, self-underwritten, and direct offerings; and 3)small business IPOs with an offering amount of less than $5 million. IPO Line-Up: Recent SEC IPO Filing Activity is based on information provided from the IPO Vital Signs System located at https://www.ipovitalsigns.com/