IPO News Desk
They're Coming to America: IPOs by Non-U.S. Companies Are On the Rise
8/25/14 - Twelve non-U.S. companies have completed IPOs in U.S. markets since July 1st, including six in the last week of July, continuing to confirm that offshore companies are once again comfortable with making their public market debuts in the U.S. Through August 17th of this year, 44 non-U.S. issuers went public in the U.S., surpassing the number of such companies that priced in all of last year (38). The rebound began last year with an increase to 38 offerings from 23 in 2012, and it has picked up speed in 2014.
Prior to last year, the number of IPOs in the U.S. by companies headquartered offshore had dropped in consecutive years. The decline resulted, in part, from market volatility, but it prompted some industry observers to suggest that U.S. regulatory restrictions were too tight, driving non-U.S. issuers to other global markets. Other industry participants believe that as world exchanges have matured, they have become more competitive with those in the U.S. In either case, 2013 and 2014 have seen a resurgence in IPOs in the U.S. by offshore companies.
Non-U.S. Headquartered IPOs
2005 Through August 2014*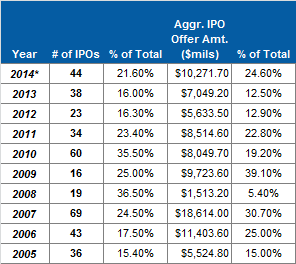 *Data includes offerings through August 17, 2014
IPO Vital Signs Subscribers see,
#328. Headquarters
China's Influence - One defining feature of the 2012 drop was the near disappearance of Chinese companies from the IPO ranks. Only three China-headquartered issuers went public in the U.S. that year. In most other recent years, China has been the dominant location of non-U.S. IPO companies. In 2011, for example, 17 of the 34 offerings in the U.S. by foreign companies were from issuers based in China. In 2010, China was home to 40 of the 60 foreign issuers that went public in the U.S.
China has not been as dominant this year as in 2010 and 2011, but has been a steady contributor to the IPO market. To date, 12 of the 44 offerings by foreign companies have been by China-based issuers. Israel is making a strong showing this year. Four Israeli companies completed IPOs in the last week of July, bring that country's 2014 total to seven. After Israel, the next busiest headquarter location has been the U.K. with six U.S. IPOs through the end of July.
Geographic Diversity - Non-U.S. IPOs this year have been spread around the globe, with 16 different countries represented so far. Countries that are not frequent contributors to U.S. IPO numbers, such as Belgium, Chile and Switzerland, have issuers among this year's total. The largest IPO by a non-U.S. company in 2014 so far is the May 21st $1.78 billion deal by China's JD.com. London-based Markit Ltd. also topped the billion dollar mark in proceeds. The company's June 18th offering generated $1.28 billion in aggregate proceeds.
Nine new non-U.S. companies have filed preliminary registrations since July 1st, ensuring a robust pipeline of foreign issuers waiting to go public in the U.S. Those new registrants hail from several different countries, including Malaysia and Denmark. No company based in either country has gone public in the U.S. since at least 1998. MOL Global, which is incorporated in the Cayman Islands but operates its online payments platform out of Malaysia, registered $300 million in ordinary shares for its IPO.
Non-U.S. companies have not been particularly well received by investors. Of the IPOs that began trading between January 1st and August 17th of this year, one of the top 20 first-day stock price gains has been enjoyed by a company based outside the U.S. Israel's Mobileye N.V., a provider of camera software to reduce auto accidents, saw its shares increase in value 48% on their first trading day, good for 9th place in the rankings. In addition, five of the ten worst first-day performances of 2014 were posted by non-U.S. issuers. (IPO Vital Signs Subscribers see #290. IPO First Day Pricing Statistics).
Non-U.S. Incorporations - A survey of countries of incorporation since the start of 2014 shows 15 different countries from which IPO issuers have come to the U.S. In 2013, 18 countries served as the jurisdiction of incorporation for at least one IPO. The Cayman Islands, where most Chinese companies seeking IPOs in the U.S. incorporate, is the leading country of incorporation, as it has been for several years. This year, 15 IPO companies are incorporated in the Cayman Islands. The next closest jurisdictions are Israel and the Marshall Islands with six. Seven countries are host to one IPO company so far in 2014.