IPO News Desk
Overall IPO Leadership: IPO Law Firms
12/22/14 - With the end of the year approaching, IPO News Desk is closing out 2014 with a review of leadership among IPO-active law firms. We have run an analysis of year-to-date 2014 activity to see which law firms are doing the most IPO work on a "composite" basis - that is IPO assignments with respect to all representations on which a firm worked this year (completed IPOs, those in registration, and those which withdrew). Here are the results.

Overall Law Firm Leadership: With only a few weeks to go in the busiest year for IPOs since 2000, Latham & Watkins is atop the rankings, nearly doubling the total of nearest competitor Cooley. This year, through December 10th, Latham has 113 assignments and Cooley has 59. The two law firms are the only ones so far this year to top 50 representations, although both Skadden, Arps, Slate, Meagher & Flom and Davis Polk & Wardwell could reach the mark by year's end. Skadden currently has 46 representations, with Davis Polk right behind at 45. The top four law firms have accounted for 65% of 2014's completed IPOs through December 10th.

Latham also topped the ranking last year. In an indication of what a strong year it has been for IPOs, Latham's industry-leading tally last December 10th was 67 representations, 46 fewer than it has this year.

The fifth place law firm currently is Wilson, Sonsini, Goodrich & Rosati with 33 representations, the majority of which are for completed offerings. Goodwin Procter is close behind Wilson Sonsini with 33 IPO representations. The only other firm to reach 30 representations for the year is Vinson & Elkins (30), although Simpson Thacher & Bartlett is close (28).

In addition to leading the overall rankings, Latham & Watkins claims the most completed IPOs through December 10th with 73 IPOs brought to market, as well as the most companies currently in registration (31). Latham also finds itself atop the third ranking category - registrations withdrawn. Its 10 withdrawals are twice as many as Wilson Sonsini, the next closest firm. In terms of percentage of composite deals worked on, 2014's strong IPO market has seen fewer withdrawals than previous years

Cooley, which ranks second overall, also ranks second in completed IPOs. The overall rankings also match the completed deal totals in third and fourth places as Skadden has assisted on 37 IPOs and Davis Polk has worked on 29 completed deals. Fifth place firm Wilson Sonsini has had a nearly identical year to Goodwin Procter. Both have worked on 22 IPOs and represent six companies in registration, but Wilson Sonsini has one more RW to its credit.

After Latham's 31 IPO filers, Davis Polk has the highest number of companies currently in registration (14). With that many registrations still active, the firm could make a move in the 2014 rankings in the final weeks of the year. Vinson & Elkins is either issuer's counsel or underwriters' counsel for 13 companies currently registered and waiting to go public, and Cooley represents ten. Those are the only four law firms for which the number of pending registrations is in double digits.
2014 Overall IPO Leadership
IPO Law Firms
On a Combined Basis
With Ten or More Representations
(Issuer's plus Underwriters' Representations)
Ranked by Composite Number of Representations
Activity Through December 10, 2014
(no tie-breaking)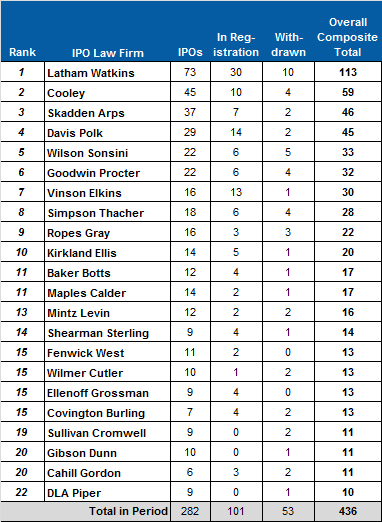 --equal credit for joint representations--
IPO Vital Signs Subscribers see, IPO Vital Sign #160. IPO Counsel
(IPO Issuer's Representations plus IPO Underwriters' Mandates)

as well as
#1010. IPO Queue - IPO Counsel
(IPO Issuer's plus IPO Underwriters' Representations)

and
#1037. IPO Withdrawals - IPO Counsel
(IPO Issuer's plus IPO Underwriters' Representations)
Of Note: To date, 2014's IPO market is nearly 74% more active than last year's. There were 144 firms with at least one IPO representation last year, and 160 so far this year. For each of the top six firms listed in the table above, the number of IPO representations has risen year-over-year, in some cases significantly. In two cases - Vinson & Elkins and Simpson Thacher - IPO representations are slightly down from this point last year. Vinson had assisted with 17 completed IPOs as of December 10, 2013 and has 16 so far this year. Similarly, Simpson Thacher dropped by one from 19 last year to 18 this year. In each case, however, the firms' tally of companies in registration is up from last year which has helped them improve their rankings in 2014.

Our annual IPO Professional Rankings, to be published in January, will cover completed IPO activity for law firms, investment banks and auditors, so join us next month to see where each of these law firms ends up.